Engage. Connect. Understand. Have Fun!
Do you enjoy meaningful conversation and getting to know people at a deeper level?Maybe you want to have thought-provoking conversations with family and friends. Perhaps you're looking for a conversation-starting ice breaker, or a fun new family/group game. What if there was one deck of cards that would allow you to do all of these things?
Describe is that deck! Each card has an adjective, as well as three questions related to that adjective. The instructions include dozens of activities and games that prompt individuals, couples, families, and groups to explore and discuss how they describe people, places, and things in their lives.
Describe is the most versatile conversation starter and provides everything from fun conversation games to prompts for deep, meaningful conversation!
We paint the picture of our world through adjectives, and it is through adjectives that we better understand our experiences and each other.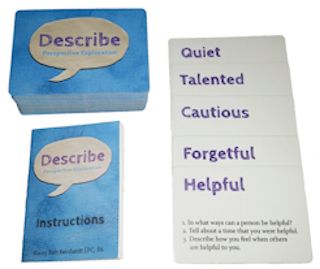 Describe was created by Rob Reinhardt, a Licensed Professional Counselor in private practice. He developed Describe over the course of eight years because he wanted a fun, interesting way to help clients explore and communicate their perspectives and feelings. Using the many Describe Cards activities, he has been able to quickly understand where people are coming from, what's important to them, and what things they might like to address or change in their lives. Describe has been an incredibly useful tool in working with individuals, couples, families, and groups!
After years of narrowing down the adjectives and refining the activitives and games, Rob was ready to offer this wonderful tool to everyone! With the help of some wonderful backers, the initial printing of Describe (Deck One) was successfully funded through a Kickstarter campaign. While Describe was originally conceived of as a counseling tool, it has since been used by Teachers, Coaches, Team Leaders, Authors, as well as individuals and families.
In 2018, Deck Two was also crowdfunded and backers had input into the adjectives included on the 56 new Describe Cards. The line of Describe products, games, and activities continues to grow!
Rob continues to independently publish Describe, and it is available for purchase here as well as Amazon (Those in the UK/EU, and Canada and many other parts of the world, can order through Amazon.com and receive very reasonable shipping!).